The best hair styles of 2017 are now doing the rounds of the fashion weeks of the world and they are the epitome of style and elegance. Of them, some are great wedding hairstyles which are sure to make the bride look every bit of the princess on her D- Day. There are many hair dressers in Grange who are experts in styling the way akin to a celebrity stylist and they can replicate the perfect hairstyle on the big day. Grange itself is a popular wedding destination and as a result there is a constant demand for hair stylists and makeup artists who can give a complete makeover to the bride for her special day. What makes the hair salon in Grange all the more special is the fact that they are not just experts in hairstyling, but they also give valuable advice on how to make hair stay healthy and shiny leading up to the wedding. Hair spas and hair detox are great way to unwind and relax and spend a glorious day with friends as an amazing girl's day out.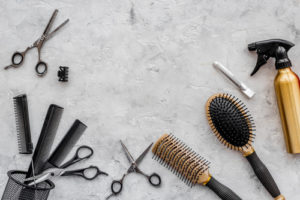 The area around Brisbane has a number of popular destinations which are always booked well in advance before the wedding season but just in case one books a last minute destination and does not have adequate time to visit the salon on the day, them one can easily opt for mobile hairdresser in Brisbane. Most of the popular hairstylists provide this service and they have all the necessary equipments and styling products with them and they reach the bride wherever she might be. The wedding upstyles in Brisbane are all about classy and chic styles and the warm and pleasant weather makes it necessary for the bride to try styles that are mostly top knots and updos. Braids and floral patterns are the most preferred, and one sided hairstyles are also very much in vogue, playing peek- a- boo with the veil that might fall to one side.
The hairdresser in Brisbane also use amazing hair accessories that make the styles really stand out. They do however, have to be booked well in advance because most of the time, the demand during the peak wedding season makes it difficult for them to be appointed at the last moment. The rates for their services are quite affordable though and they are just about the best hairstylists that the region has. The Northside hairdresser Brisbane makes sure that the brides look best when they are walk down the aisle. The hairstylists also have the best teams who style the bride according to her facial structure, as well as in accordance to what is makes waves at the runway. They also use the best hair products and styling potions so that the hair is not damaged in any way, in spite of long hours of styling and this is what attracts the brides the most.